A scientist at heart, I enjoy learning new things, solving problems and challenging myself with highly technical tasks that the fields of electronics, mechanics and computing have to offer. Engineering is not only a career choice, but a lifelong passion and a calling that enables me to lead a life of meaning, unrestricted creativity and never
ending exploration of diverse disciplines.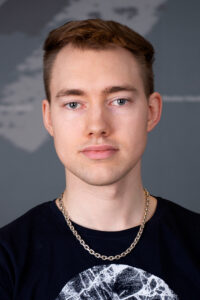 Technical University of Denmark
Master of Science in Telecommunication
– Specialization in Protocols and Network Technologies • 2017
Courses
Technology, Economy, Management & Organization
Network Security
Practical Network Security
Routing in Data Networks
Access and Home Networks
Principles of Data Communication
Research Immersion Project: Advanced Optical Hardware and SDN for Next-Generation Data Centres (link)
Research Immersion Project: Internet of Things: Pet Feeder Architecture (link)
FPGA design for Communication systems – Synthesis project: Gigabit Ethernet Switch
Broadband Networks – Focus on Security of Software Defined Networks
Software Defined Networks – Implementing Server Load Balancing Service
Telecommunication Services (former Advanced Telecommunications)
Database Systems
Programming Services for Next Generation Networks
Master Thesis – SDN-based grade of service management for ISP subscribers
Bachelor of Science in Computer Science • 2014Mandatory courses
Introduction to programming
Discrete Mathematical Structures
Object-oriented Programming and Design
Linear Algebra
Data Bases and Web Programming
Project Course: System Development
Algorithms and Data Structures
Machine Architecture
Human-Computer Interaction
Philosophy of Computer Science
Introduction to Compilers
Operating Systems and Concurrent Programming
Computer Networking
IT Security
Bachelor Project – Labeling and search-enabling regions in images
Higher Technical Examination Programme
Technical specialization in Design and Production • 2009
Crayon A/S
IT Operations Consultant
I have responsibility over all hardware located in the danish branch of Inmeta Crayon ASA. My tasks include the following, as well as helping out employees from other countries when needed.
– Support and troubleshooting
– Installing and configuring computers and servers
– Ordering new equipment
– Maintenance/monitoring of servers (Windows and Linux)
– Follow-up and request of warranty repairs
– Development/scripting (PHP, Powershell)
– Planning, Installation & Configuration of firewall/network equipment
– Diagnosing network issues
– Managing employee broadband
– Asset Management
– Documentation
– Project-based work
GlobeIT ApS
System and Project Consultant
In, GlobeIT, a startup IT company, I was the IT department: I led the design projects, utilizing and linking CRM and ERP systems, implemented customized solutions, developed website plugins utilizing the CRM API, and provided remote and on-site support for our clients. I planned and designed network architecture for multiple small businesses, participated in sales meetings and provided project estimates. Furthermore, I was responsible for cloud management and cloud security.
– Web Development/UI Design
– Managing hosting
– Solution Selling
– Project-based work
– CRM Solutions
IPv6 Sage
Hurricane Electrics – Certification in the next generation IP technology